I fly… a lot.
Well, a lot for an artist, who pays her flights herself.
Since moving to Byron around two years ago, I have spent what most would put down on a deposit for a house, on flights. So I guess you could say I have become quite the pro when it comes to finding out the tricks and hacks when it comes to flying and airports. OK, here goes:
Tuesdays are the cheapest day to fly.
book your flights 50 days ahead of departure
the most expensive flights are two or three days beforehand
If you have carry-on luggage and you're a tad overweight, wait until the last to board and you won't get weighted. Of course, if you're stupidly overweight – check in your bags as it is a safety risk. If we are talking a kilo or two, then tardiness is your friend.
Most gates will close 15 mins before departure. It used to be 13 mins but I have noticed a change – yes – I would plan to be at the gate 1 min before it closes.
When doing mobile check-ins, Check in later to get a seat up the front and not the middle around row 15.
If you make a stupid mistake, like double book a flight (yep I've done that a couple of times). Jetstar doesn't care, Virgin is 50/50 and Qantas will sort it out for you.
If you are in the middle seat – you get the armrest.
Being a frequent flyer, you can spot the other frequent flyers a mile away. When going through security pick the business line: people that do it all the time. Not the annual "Christmas in July" family reunion with the whole family and the second cousins, all going through security at once. No thanks.
Take off your necklace and brackets on the escalator or in the queue, not in the security line.
If flying in Sydney, take the train. It's quicker and much cheaper than an Uber/taxi.
Always pick a good seat of headphones that cover your entire ears: not the little wire-ear-bud headphones. Being an audio nut, I am aware of safe and unsafe levels of music, or any audio for that matter. 80 decibels is the safest listening volume. This is my last reading on a Jetstar flight of the intercom. Yes, I've told them to turn it down, a few times.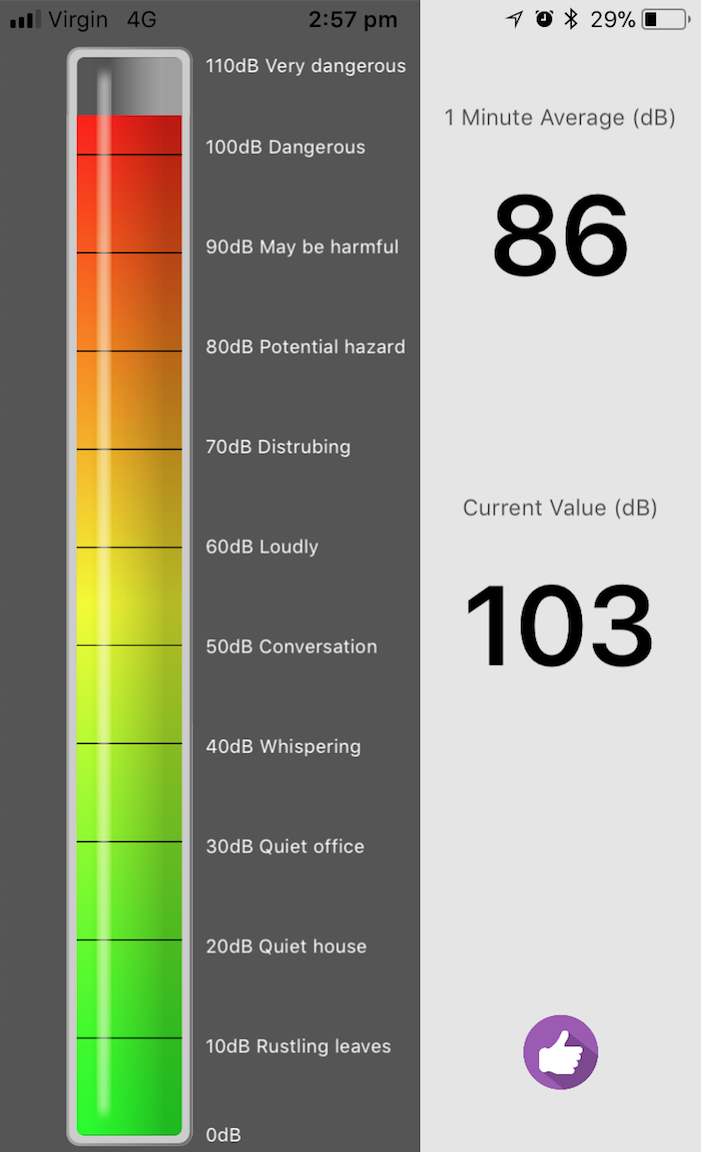 If airlines promise you a refund because of an error on their part (can you tell I'm still bitter) don't expect the money back. Yes JETSTAR, I'm mean you. I am still waiting on money back for two flights to Melbourne which they claimed to refund to a Credit Card that was closed a month before.
Don't bother with check-in luggage if you don't have to. I have traveled to the other side of the world with carry-on. It is possible. If you value your time and the climate in the destination is ok, you can, and often do, buy more clothes when traveling anyway. Unless you go a year without buying clothes, which I have, but that's another story.
Ditch the iron. Buy clothes that don't need ironing. Enough said.
Pop your shoes in a bag so it doesn't ruin your other clothes.
Book international flights one year ahead. I have grabbed some great deals this way.
Give yourself the weekend to unpack – I mean after a big trip. Nothing worse than not having clean undies and socks after a big trip away.
Use google maps when you're overseas. Simply pre-search beforehand and it will load and work. I have used this in Bali, Europe and India.
Always fly with your keys. Yep – I made the mistake of putting my house keys in my luggage, which went missing. Had to wait a few days before getting my house keys back. It was the second and last time I flew with Tiger.
I hope you have enjoyed this article and it will help you on your travels. You can buy a PLAN B Travel Mug to keep you caffeinated and reduce your plastic waste when you are next traveling through one of those big metal cylinder things through the sky. Planes are amazing, aren't they?